PMP_Roll. Ultimate PMP certification preperation guide
PMP certification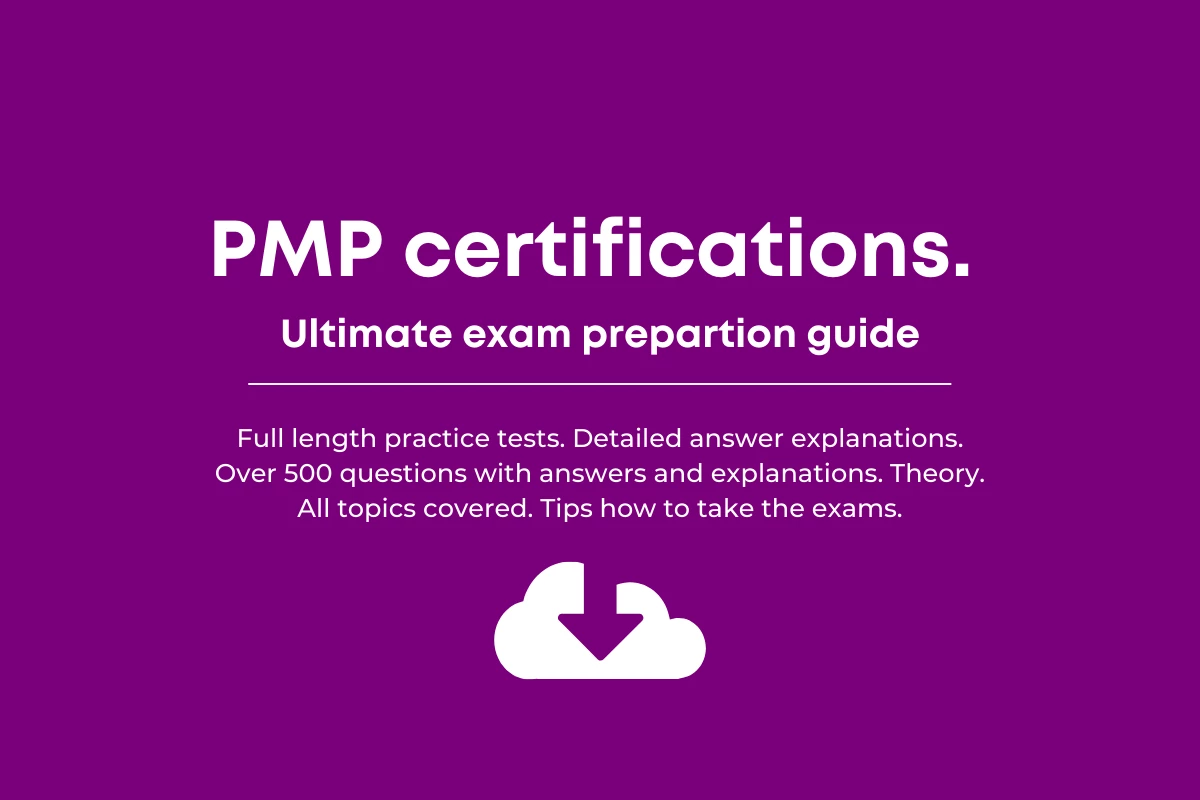 PMP certification_Roll. Ultimate PMP certification exams preperation guide. Over 500 questions with answers and explanations. Theory. Lifetime free updates. Over 540 pages of valuable content. Nail your PMP certification easily. See what's included: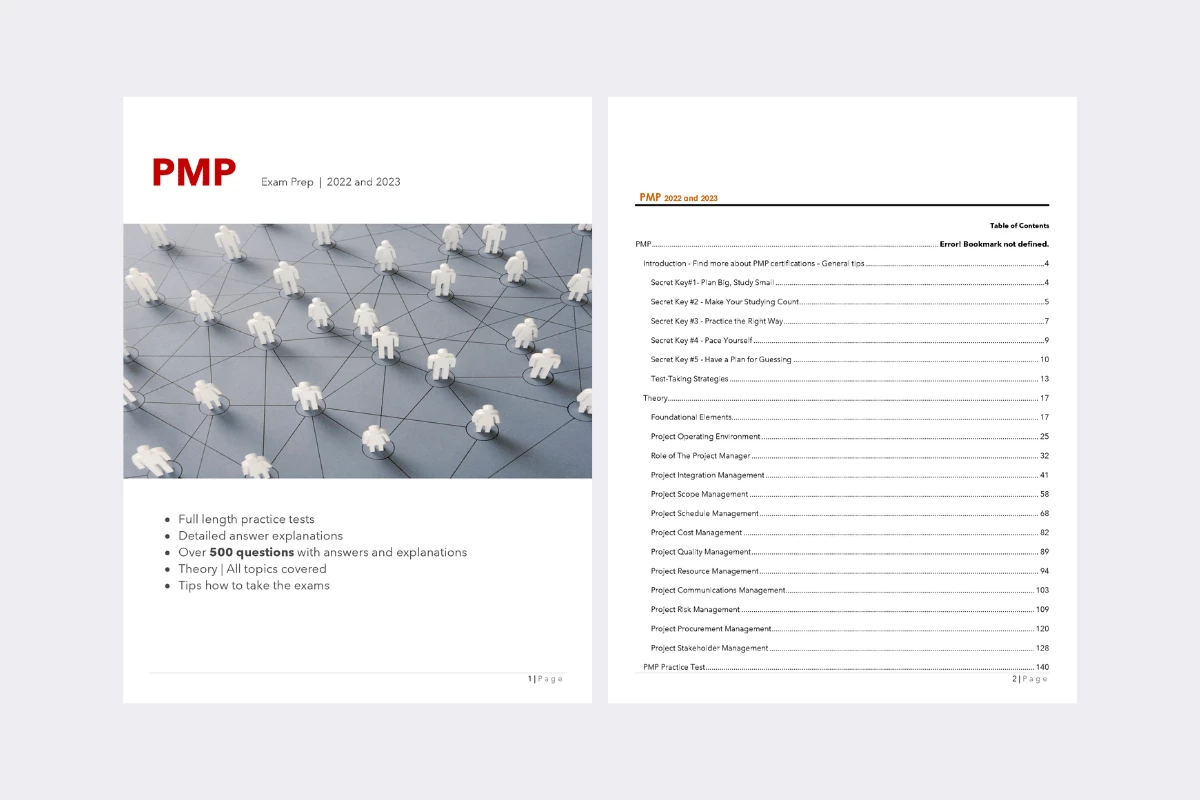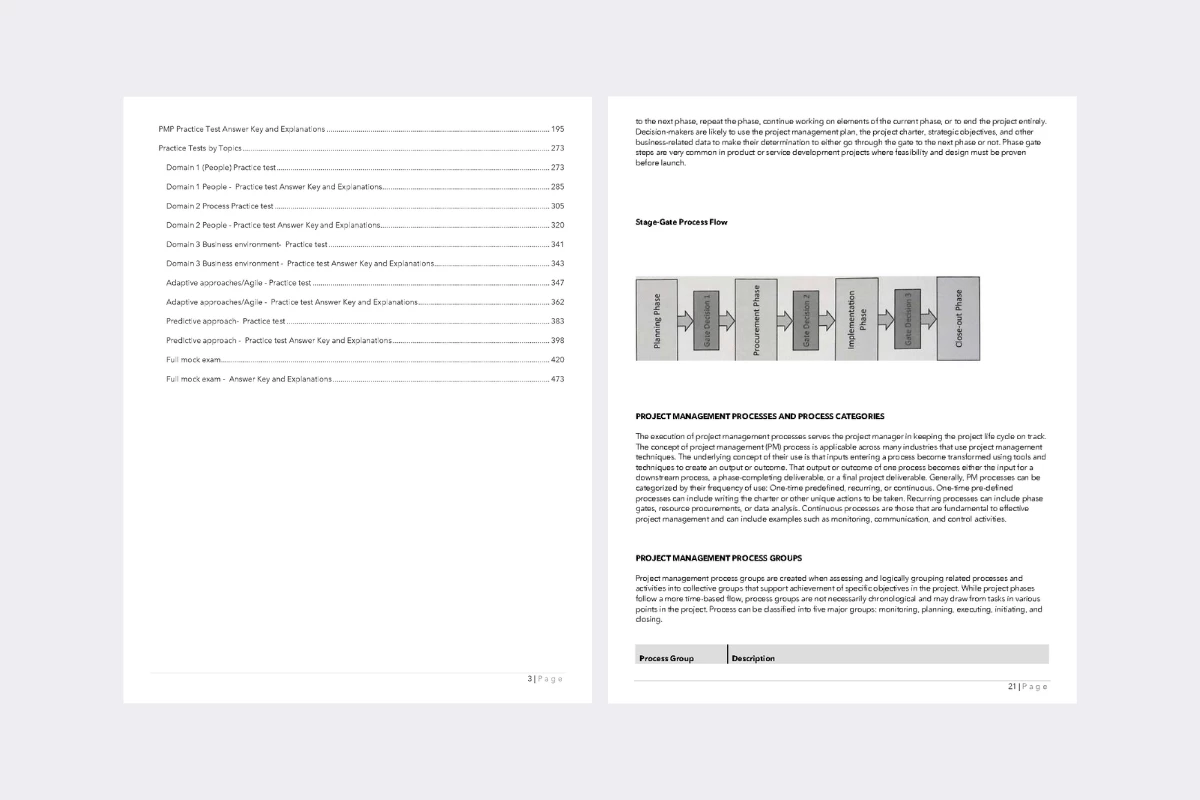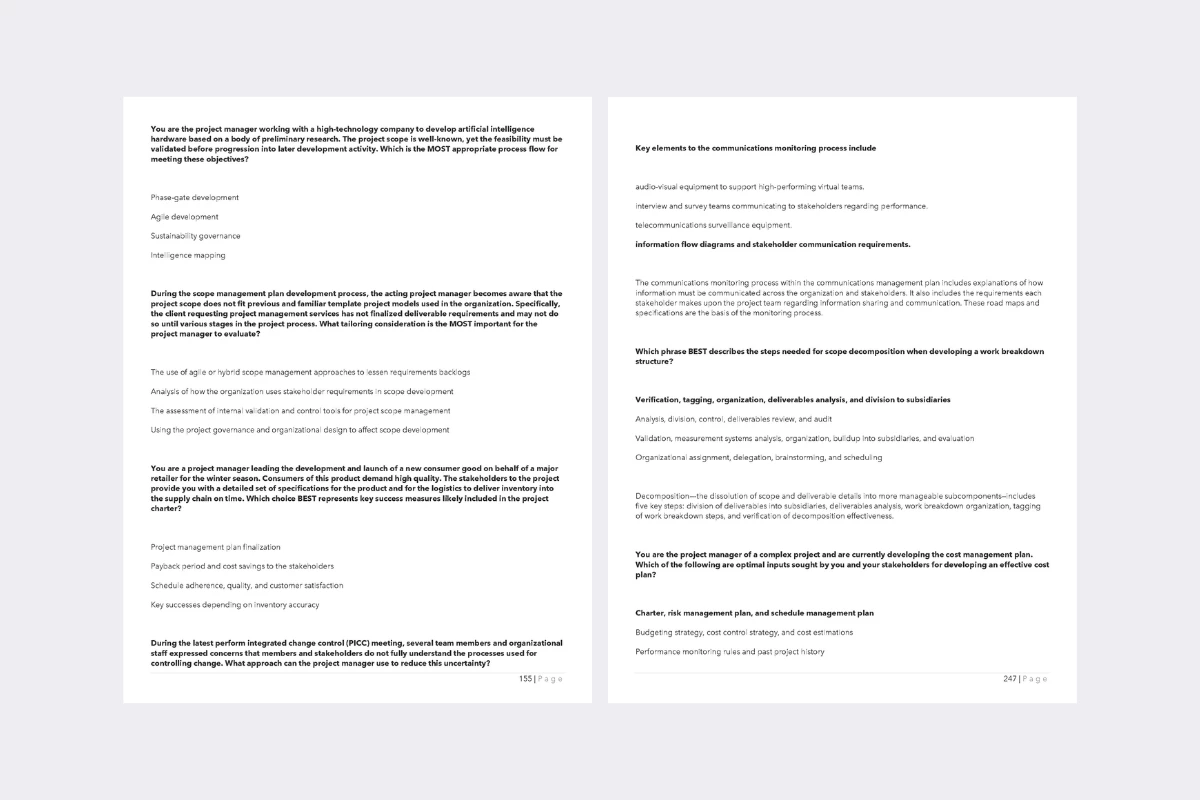 Full length practice tests. Over 500 PMP certification exam questions with answers, and explanations.
Theory. All topics covered.
Detailed answer explanations.
Tips how to take take the exams.
Free updates.
Your success on test day depends not only on how many hours you put into preparing, but also on whether you prepared the right way. It's good to check along the way to see if your studying is paying off. One of the most effective ways to do this is by taking practice tests to evaluate your progress. Practice tests are useful because they show exactly where you need to improve.
This ultimate guide aims to be a single source to prepare for your PMP certification. No other guide or book has so many questions with explanations based on real certification exam questions.
What Is The PMP Certification?
PMP® is the world's most recognized project management credential. The PMP credential demonstrates that you have the experience, education, and competency to lead and direct projects. Organizations and employers globally recognize and demand it, increasing your earnings potential.
The certification is applicable if you're a project manager in health, construction, IT, or business. Over one million people worldwide have already gotten certified, according to the Project Management Institute (PMI), which administers the certification.
What's Included In the Exam?
There is a combination of multiple-choice, multiple responses, matching, hotspot, and limited fill-in-the-blank questions in the PMP certification exam. As of June 2022, the exam comprises 180 questions, and 3 hours and 50 minutes are given to complete it. There are also two 10-minute breaks included in the duration.
The three domains and their respective weights on the PMP exam are as follows:
People (42 Percent): Questions in this domain focus on topics like leading and building teams, managing conflict, supporting virtual teams, mentoring, etc.
Process (50 Percent): The questions here test your knowledge of the methodology involved in seeing a project through to completion. This could include managing budgets and other resources, scheduling, handling changes in the project, and determining the best methodologies for the project.
Business (8 Percent): Dealing with the more business-minded aspects of being a project manager, questions in this domain cover topics like compliance, delivering value, and supporting organizational change.
Around half of the content on the exam covers predictive project management approaches, while the other half focuses on Agile or hybrid approaches.
Renewing PMP Certification
As a Project Management Professional (PMP), you must maintain your certification every three years. One way to do this is by renewing your certification. You must earn 60 professional development units (PDUs) to renew your PMP. You can do this by completing accepted professional development activities. The time frame for renewing your certification starts on the date that your current certification expires. If your certification expires, you must retake the exam and follow the PMP certification process to become certified again.
Is The PMP Worth It?
The worth of a PMP certification to you professionally and financially depends on your unique circumstances. Here are some benefits you might see with a PMP certification:
Learning New Project Management Skills: Mastering new skills always benefits your career. Project management education can allow you to learn new project management techniques that you can apply to future projects. For example, conflict resolution or earned value management.
Earning More Money: A PMP certification can sometimes increase salary. A study by the PMI found that in the United States, those with the PMP certification earned a median salary of $123,000, while those without it only earned $93,000. Furthermore, the longer someone is certified, the more likely their salary will increase. PC Magazine ranked the PMP certification as number seven among IT certifications regarding the highest salaries earned.
Industry Recognition: To some employers, the PMP certification is the gold standard for project managers. It shows that you have the experience and knowledge to lead projects effectively. The certification can give you an edge over other candidates when applying for jobs.
Job Prospects: While a PMP certification does not guarantee a job, it can give you a competitive advantage and project management experience when applying. The certification demonstrates that you have the skills and knowledge to be a successful project manager.